Steel Ramekins 4oz Large Sauce Pots Cups Condiment Serving Bowls 6 or 12
---
---
---
Set of 6/12 Stainless Steel Sauce Cups 4oz Large Sauce Condiment Dipping Pots Dishes Ramekins Serving Bowls Ideal For Ketchup Mustard Salad Dressing Soya Sauce
Set of large stainless sauce cups for you to serve a range of sauces and condiments at the table. Large round pots ideal for dipping tasty food into your favourite sauces/condiments such as tomato ketchup, bbq sauce, salad dressing, honey mustard, chilli mayo, mango chutney, salsa, guacamole and many others.

These Stainless Steel Sauce Cups are available in SETS OF 6/12. The maximum capacity of each sauce cup is 4oz. Dimensions of each sauce cup are - HEIGHT: 4.8cm / TOP DIAMETER: 7.5cm / BOTTOM DIAMETER: 4cm. Note - ONLY 1 SET in your chosen quantity shall be sent out.

PRACTICAL SERVING SOLUTION - A practical and ideal serving solution to delivering side sauces, dips and condiments at the table. With this set of stainless steel sauce cups/pots you will be able to present individual portions of ready made or home made sauces. These sauce serving pots will be great to use beside appetisers or starters such as fries, onion rings, nachos, vegetable sticks and more.

STAINLESS STEEL STRUCTURE - As these sauce cups are constructed from stainless steel, they will last you a very long time. You will be able to use them multiple times to serve multiple different sauces/condiments. Stainless steel is highly resistant to damage and will never easily rust, corrode or break no matter how much they are used.

VERSATILE USE - These stainless steel sauce/condiment pots are ideal for home, commercial and professional purposes such as during gatherings at home, children's meal time, pubs, bars, restaurants, catering services & more.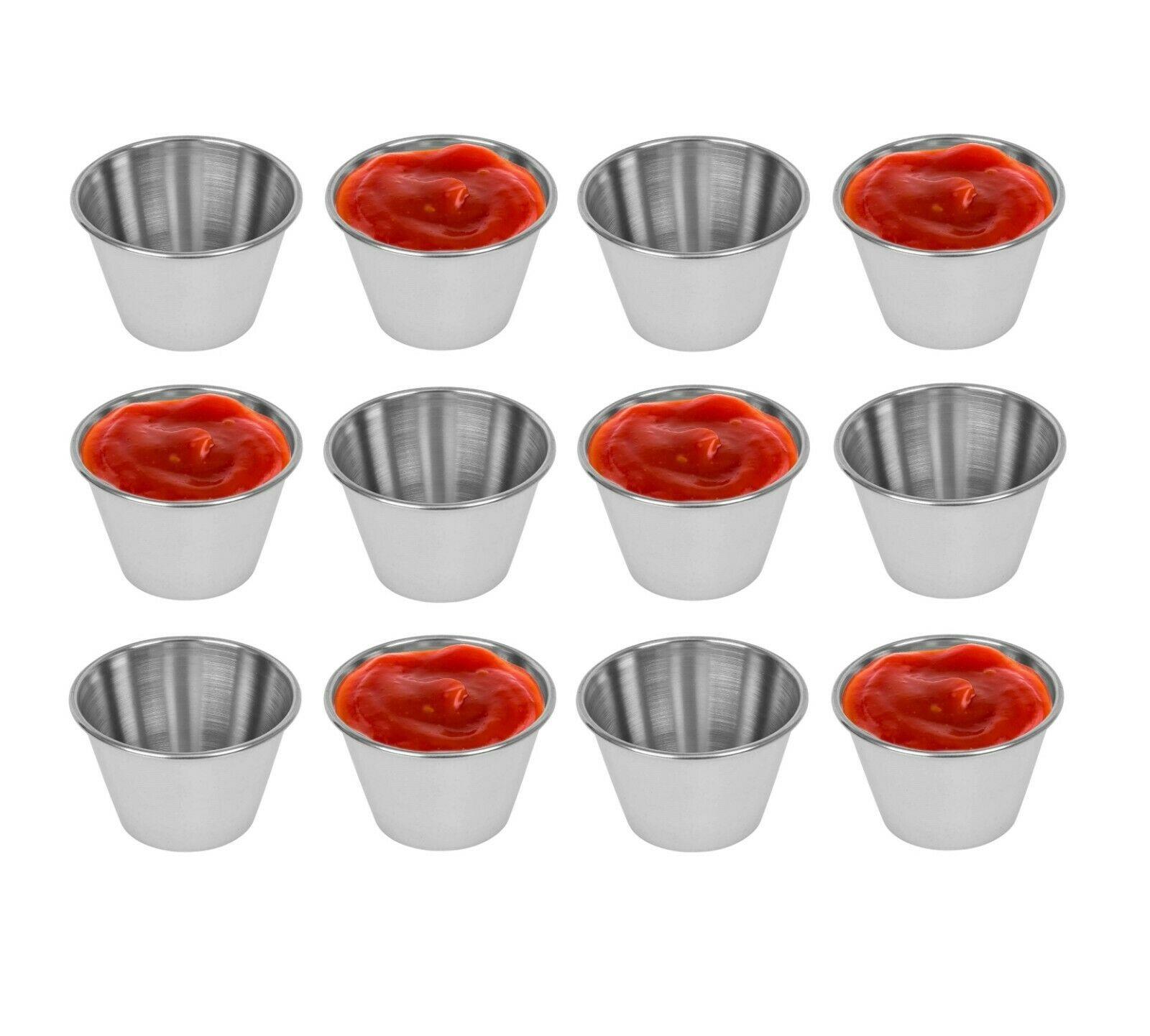 Recommend this product to a friend
Steel Ramekins 4oz Large Sauce Pots Cups Condiment Serving Bowls 6 or 12