Tiger Eye Japa Mala 108 Beads 6mm Yoga Prayer Meditation Japa Mala Necklace
---
---
---
Tiger Eye Japa Mala 108 Beads 6mm Yoga Prayer Meditation Japa Mala Necklace Tibetan Hand Knotted Tiger Eye Bead Gemstone Rosary Japa Mala
6mm 108 bead yoga meditation prayer tiger japa mala tibetan necklace tiger eye semi precious hand knotted rosary japa mala
Japa Mala made of 108 Tiger Eye semi-precious gemstone beads to bring you peace during prayers, meditation and yoga. Created by high skilled artisans with beautifully polished spherical gemstones and strong thread, this japa mala will bring out it's beauty and aid in healing of the mind and body.

Tiger Eye Gemstone – Tiger eye is known to be the protecting and grounding stone. It has great healing powers which can develop your confidence and courage so you can step outside your comfort zone. Meditating with this tiger eye japa mala shall ensure your mind is focused to accomplish goals and promote prosperity, clarity and protection.

Meditation/Prayer/Yoga Tool – Japa mala is the common term used to define a string of prayer beads. Made of 108 beads with this tiger japa mala you will be able to count or chant your preferred phrase or mantra 108 times to keep your mind and attention focused. No matter if your meditating, praying or even wanting a calming activity during yoga practise, with this tiger japa mala you will bring yourself confidence and positivity to leave you refreshed and heal any interference or negativity.

Colourful Tassel - This tiger eye semi-precious gemstone japa mala is designed with a tassel which has both functional purpose and spiritual significance. It is designed as a part of the japa mala to anchor the stringing cord and provide spiritual connection. The tassel shall ensure a strong connection between all beads for easy mantra chant or repetition and ensure the japa mala never breaks.

Receive Healing & Spiritual Power – This tiger eye semi-precious gemstone japa mala doesn't just have to be used for chants during meditation to bring peace of mind but can also be wrapped around as a bracelet, worn as a necklace or even hung up on wall or in your car. Accessorizing this japa mala shall allow you to receive healing and spiritual powers.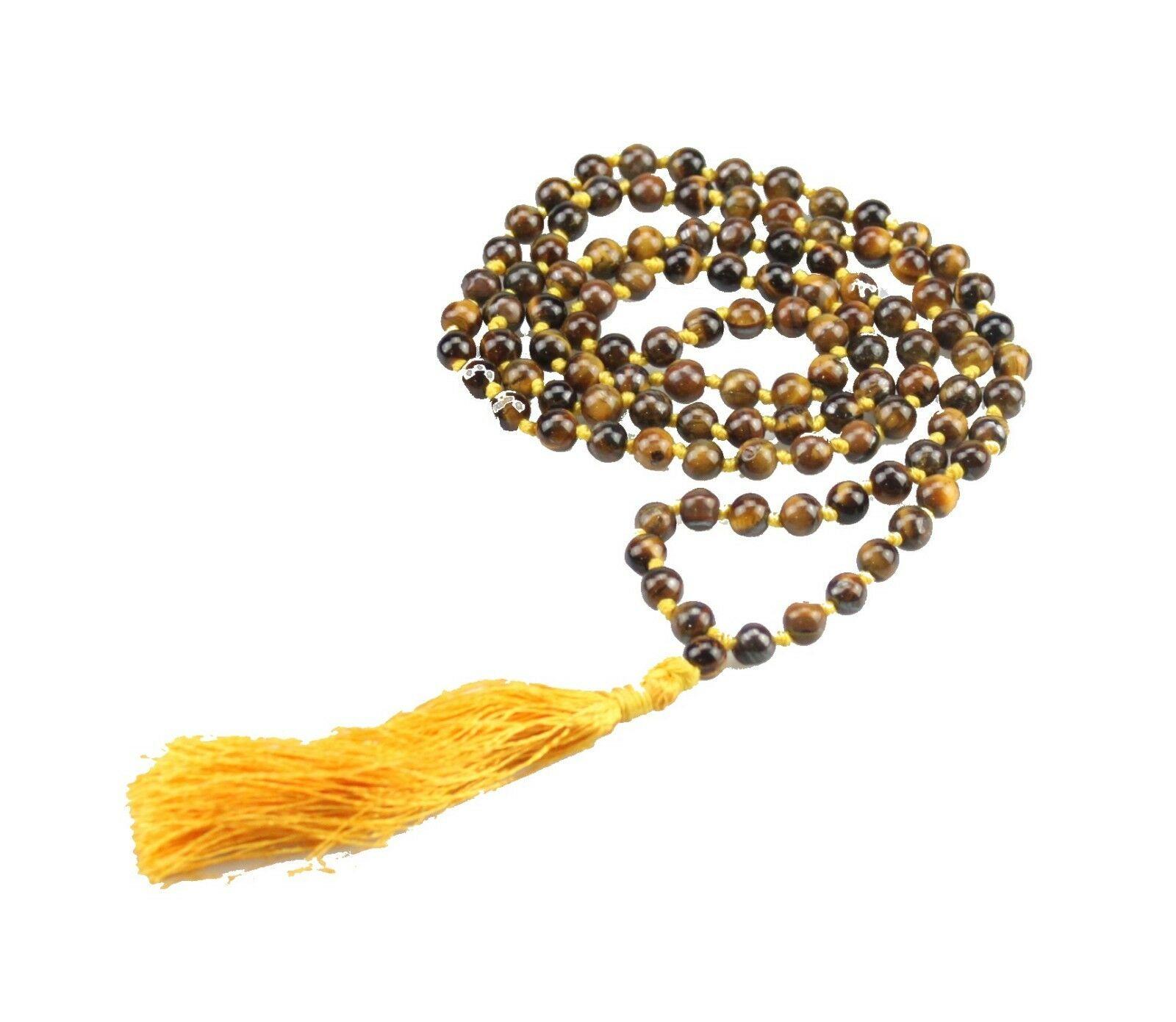 Recommend this product to a friend
Tiger Eye Japa Mala 108 Beads 6mm Yoga Prayer Meditation Japa Mala Necklace