Water Flask Stainless Steel Double Wall Vacuum Copper Insulated Bottle Sport
---
---
---
Double Wall Vacuum Insulated Stainless Steel Flask Bottle Copper Inside Hiking Flask Small Large Leak Proof Sport Gym Travel Work Water Thermos Bottle Ideal For Hot And Cold Drinks Food
This double walled insulated flask is perfect for daily use, ideal for travel, office, home use. Sleek and stylish stainless steel design and high quality construction for long term use. Enable you to keep your coffee, tea, juice or water hot and cold for longer.

Insulated Double Wall - This water bottle/flask has a high quality stainless steel double wall which keep your favourite drinks hot or cold for long hours. Stainless steel body to keep it rust proof and copper coating inlay for better temperature retention. This is stainless steel double walled vacuum flask has all the essential features for it to be with you all year round.

Copper Inlay For Temperature control - This specially designed bottle/flask has a layer of copper sandwiched in between the stainless steel walls adding an extra insulation property. Copper inlay in between the stainless steel walls reduces chances of temperatures changing and ensures they remain constant.

No More Worries Of Hot Drinks Getting Cold OR Cold Drinks Getting Hot - Reduce temperature changes to your drinks with this double stainless steel wall vacuum flask. Double wall insulation creates airless vacuum space between two walls and with the addition of copper coating in between ensures temperatures remain constant. With a tight seal vacuum lid, this stainless steel flask has all the necessary insulation technology to prevent heat escaping and ensures any drink remains the same temperat

100% Leak Proof - Have no more worries of water bottles leaking or breaking with this stainless steel double wall vacuum flask. A sturdy stainless steel construction and a tight seal vacuum lid, you shall be assured that this flask will last you a long time without any problems of any drinks dripping or leaking out. Perfect for when your exercising at the gym, out and about or even when your at work or school.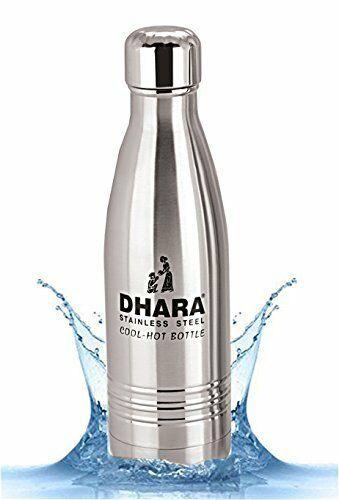 Recommend this product to a friend
Water Flask Stainless Steel Double Wall Vacuum Copper Insulated Bottle Sport