White Ceramic Milk Creamer Jug Cream Serving Retro Treats 50's Jug Vintage
---
---
---
Creative Tops Retro Treats 50's Vintage Style ceramic Jug, Multi-Colour, 1 L (34 fl oz)
This pretty jug from Creative Tops' Retro Treats collection, is an ideal way to serve drinks over dinner or milk during afternoon tea

Made of ceramic, this white jug has a 1L capacity and is printed with a pretty cupcake and a retro-style advert for an ice cream parlour

The jug is finished with a pink and white striped rim and a generous spout. It also features a convenient handle for easy pouring

Match with other items from the range, including trays, storage jars and coasters. an ideal gift for anyone who loves retro-style design

Capacity: 1 L (34 fl oz). Measures 1.75 cm (4.5 Inch) wide at the base and 16 cm (6.25 Inch) in height. Microwave and dishwasher safe
Product Description
Add some retro style to your table next time you serve drinks over dinner or indulge in afternoon tea, by using this cheerful ceramic jug.
From the Retro Treats collection by Creative Tops, the jug has a one litre capacity, so it's ideal for serving water, juice or milk.
Made of white ceramic, the jug is printed with a pretty image of a cupcake and an advert for an ice cream parlour, reflecting the smooth style of 1950s America.
The top of the jug is finished with a pretty pink and white striped rim and a generous spout, while a convenient handle makes for easy pouring.
The Retro Treats range encompasses everything you need to enjoy all your favourite treats, while echoing colourful, fun vintage style.
About Creative Tops
The Creative Tops collections offer trend-driven, functional home wares and gifts to suit every home and every hosting style. From the kitchen to the table, baking to serving, and eating to drinking, you can find a story and style to suit you, be it beautiful, contemporary, vintage and more. Creative Tops focuses on offering not just a selection of products but collections which craft a desired lifestyle for consumers and a complete experience: from food and drink preparation to serving at beautifully dressed tables.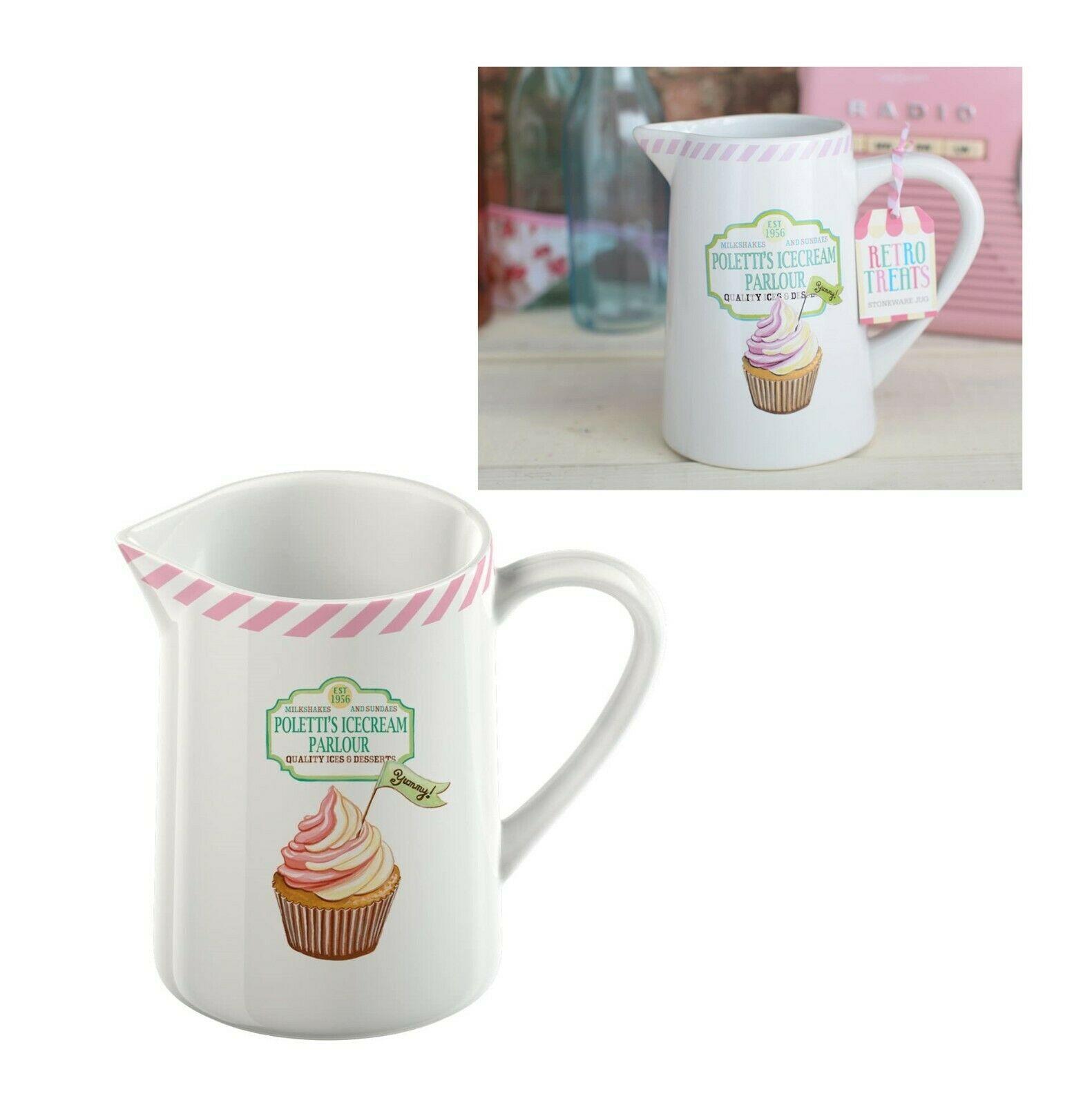 Recommend this product to a friend
White Ceramic Milk Creamer Jug Cream Serving Retro Treats 50's Jug Vintage