White Plates Bowls Crockery Dinner Soup Side Steak Platter Opal Glass Dinnerware
---
---
---
White Plates Bowls Crockery Dinner Soup Side Steak Platter Opal Glass Dinnerware
•The classic plain white dining crockery to go with any dining setting, but most importantly give you the tool in making food and fine detail stand out. Made from opal glass (white glass), we have range of different bowls & plates to give you crockery for breakfasts, sides, soups, dinner or even a platter!
•Set of 6 Square Cereal Bowl
oDimensions of EACH Bowl are – H: 6.5cm x L: 15.5cm x W: 15.5cm.
oA classic to the table are these square bowls. Small & stackable white opal glass bowls moulded into a soft look rounded square form, to give you a dining utensil that will show off your tasty dishes to look even more colourful, tasty and tempting! Perfect for delivering individual servings of many food such as a cereal, oats, porridge, fruit salad, desserts, rice, and more.
•Set of 6 Square Soup Plate
oDimensions of EACH Soup Plate are – H: 3.4cm x L: 22cm x W: 22cm.
oSoup plates specially designed for individual portions and hot servings. Soft square white plates to give you a classic but essential minimalist crockery that will make soups stand out every time. Deep centre and risen wide rim gives you that perfect centred serving to delicious soups or any other similar dishes i.e. pasta, spaghetti or noodles.
•Set of 6 Square Side Plate 
oDimensions of EACH Side Plate are – H: 1.5cm x L: 19cm x W: 19cm.
•Set of 6 Square Dinner Plate
oDimensions of EACH Dinner Plate are – H: 2cm x L: 25.5cm x W: 25.5cm.
oHave tableware that allows your meal to speak for itself even before a bite is taken. Small soft square white side plates with a polished finish to give you a classic but essential minimalist crockery that will always brighten up your cuisine. Toast, snacks, biscuits, salad, or any other side dish of your choice; these plates cater to a wide range of preferences.
oDimensions of EACH bowl are – H: 1.8cm x L: 34cm x W: 25.5cm.
oWide surface area rectangular platter plate to present and serve greater quantities of food. It is the ideal serving tool for the centre of your table and as it is white, it is the perfect contrasting shade against all foods to make food stand out and look even more delicious. Ideal to use during food gathering indoors and outdoors for food platters, steaks, meats & more.
•TOUGHENED OPAL GLASS – Fine quality opal glass heated at high degrees before being cooled down to make these square bowls extremely durable, tough and resistant from common breakage/damage. Process of being toughened, also makes these white dinnerware crockery heat & shock resistant; hence they will not get affected from high or low temperature foods placed inside. ALL PRODUCTS ARE DISHWASHER SAFE.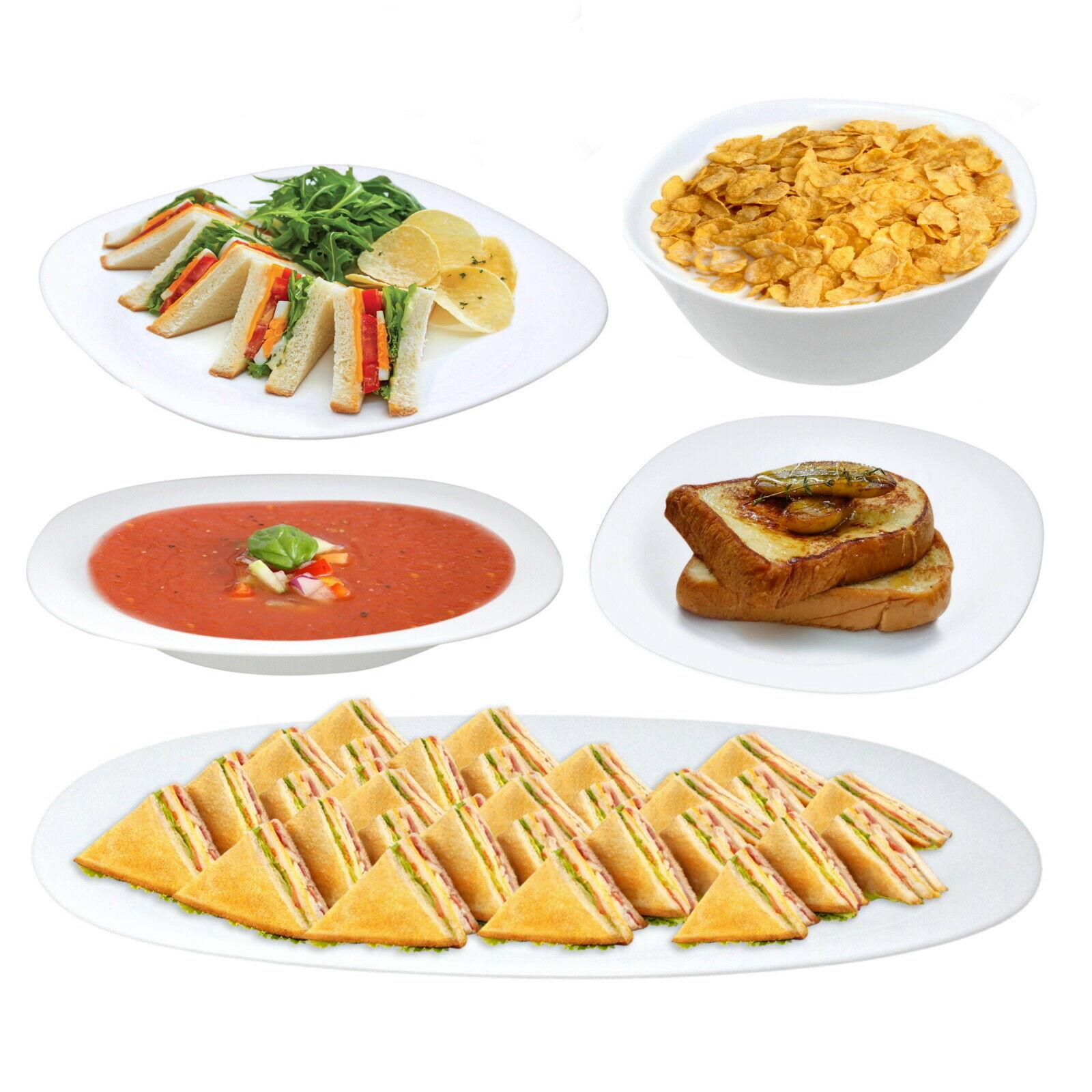 Recommend this product to a friend
White Plates Bowls Crockery Dinner Soup Side Steak Platter Opal Glass Dinnerware