Whole Spices Indian Seeds Herbs Chillies Cloves Aniseed Cinnamon Peppercorns
---
---
---
Whole Spices Indian Seeds Herbs Chillies Cloves Aniseed Cinnamon Peppercorns
· We have a wide selection of whole authentic spices sourced from many origins across the globe, to bring you the finest & freshest of aromatic ingredients. From food preparation to cooking, herbs & spices are essential in making delicious dishes from many cuisines of the world!
· Branded world-class Old India products are 100% natural, additive free and GMO free. Our speciality in spices, culinary herbs, seeds and seasonings is the main force behind our reputable customer portfolio. We supply over 350 types of ingredients, including Spice Blends and Herbs, and we pride ourselves in working closely with customers to also create specific blends.
· All whole spices come in a weight of 100 GRAMS. Each whole spice is packed in heat seal bags to retain freshness, with at least 1 year shelf life (BBE). It is recommended to store in a cool dry place.
· In our whole spices range we have numerous different options available to choose from –
Ajwain Seeds
Bay Leaves Semi Selected
Black Peppercorns
Caraway Seeds
Cardamom Black
Cardamom Green
Chilli Whole
Cinnamon Sticks Tuj
Cloves Whole
Coriander Seeds
Crisp Fried Onions
Crushed Chilli Flakes 2-3mm
Cumin Seeds
Curry Leaves
Fennel Seeds
Fenugreek Seeds
Four Mixed Peppercorns
Ingredients: Black Pepper, White Pepper, Pink Pepper, Green Pepper
Garlic Flakes
Garlic Granules 20/40
Green Peppercorns
Mixed Herbs
Mustard Seeds Black
Mustard Seeds Brown
Mustard Seeds Yellow
Nutmeg Whole
Onion Granules 8/12
Oregano
Pink Peppercorns
Sesame Seeds Black
Star Aniseeds
White Peppercorns
White Sesame Seeds Hulled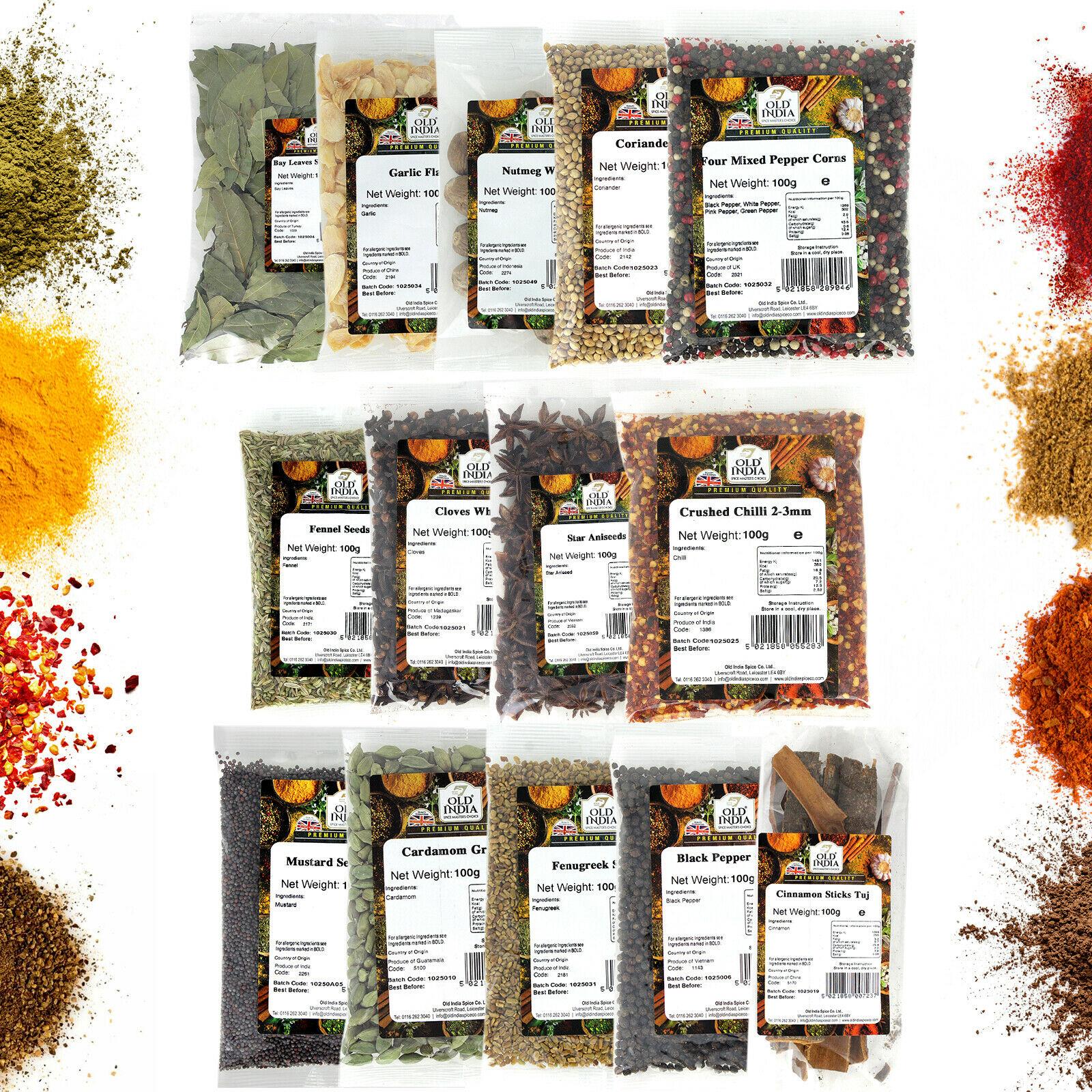 Recommend this product to a friend
Whole Spices Indian Seeds Herbs Chillies Cloves Aniseed Cinnamon Peppercorns