Wooden Round Incence Stick Cone Holder Burner Ash Catcher Agarbatti Dhoop Plate
---
---
---
Wooden Round Incence Stick Cone Holder Agarbatti Dhoop Cone Stick Plate Saucer Round Engraved Incence Holder Burner Ash Catcher With Brass Inlay
Available in 3 design. Diameter = 10cm
Aromatic Incence Stick & Cone Holder – A beautiful polished dark wood incence cone and stick holder with crafted engraved design and brass inlay to spread an aromatic fragrance around your room or home. Enjoy your favourite scent and beautiful aromas while keeping them safe and securely with this wooden engraved incence holder with brass inlay




Make Your Own Scent With Safety – With a 4/5 incence stick holders and 1 brass incence dhoop cone holder, expermient and make your own personal aroma scent at home with this incence stick & cone holder. Along with making a fragranced aroma and calm relaxed atmosphere, this wooden incence holder shall catch all buring ash and ensure all furniture around your home is safe from any unwanted burns and messy ash fallings. Therefore, with this incence holder you can enjoy your favourite scent safely.




Made from natural fine sturdy wood and with a lattice cut or engraved design this incence holder shall give the natural look in interior décor and last you a long time. An eye catching carved design and shiny brass inlay shall catch anyones eyes and attention to the detail.




Bring Yourself Inner Peace – As you create your own incence, use it to bring your self some relaxation and inner peace. With this incence holder, give yourself a break and get yourself some aromatherapy at home. Use this incence holder to create a calm atmosphere to relax and maybe unwind yourself from a busy day. Relieve stress or even do some meditation with this wooden incence holder box.




Add To Your Religious Collectables – As part of many religions and prayers, lighting incence sticks is a common ritual especially in Hinduism, Judaism and Budhism. This incence holder does not just have to be used to spread fragrance around your home or during meditation. Add to your religious collectables and worship space to make sure you have a secure incence stick holder for those special moments.

Only your chose design shall be sent out.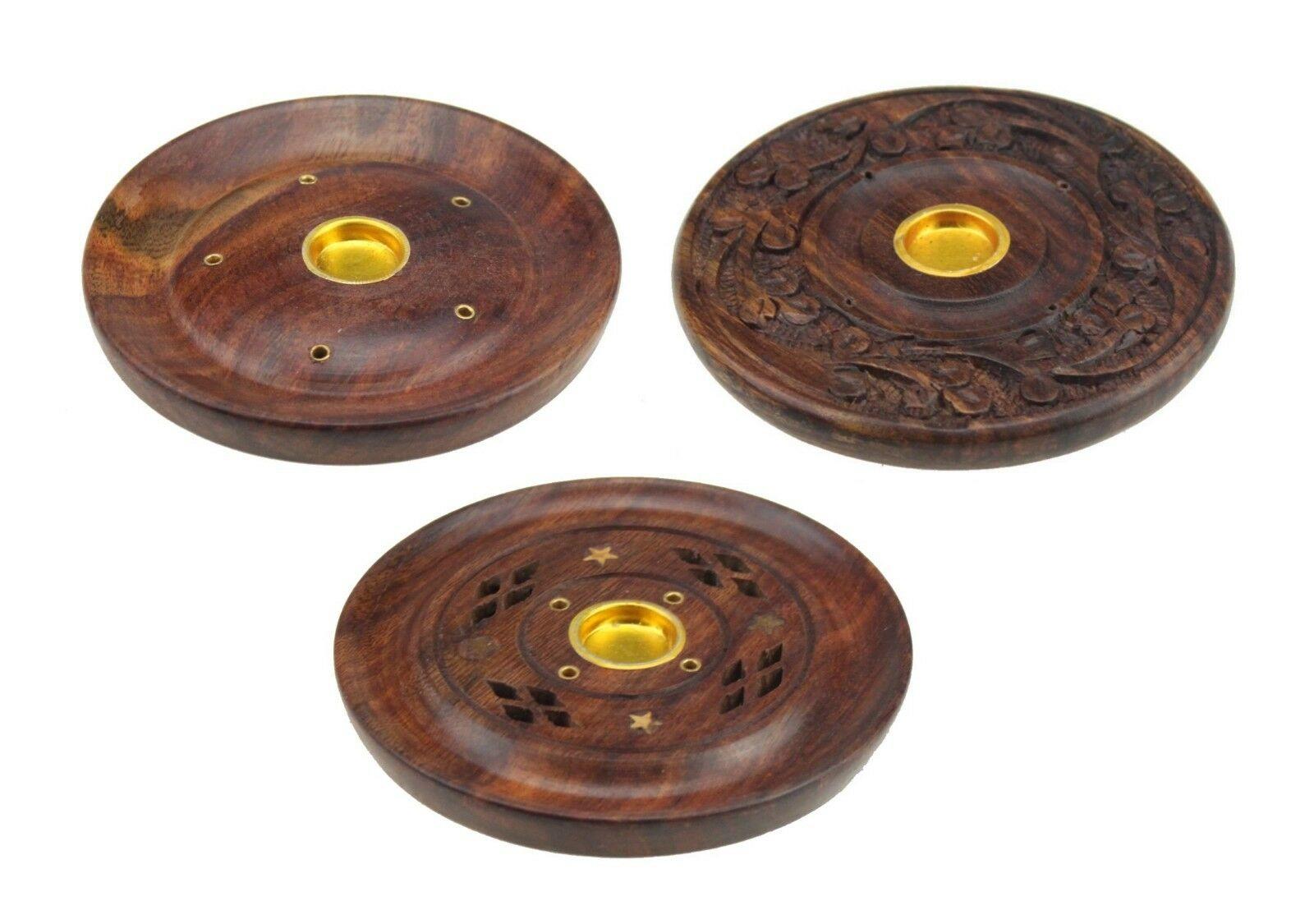 Recommend this product to a friend
Wooden Round Incence Stick Cone Holder Burner Ash Catcher Agarbatti Dhoop Plate