Wooden Turner Spatula Scraper Spreader Solid Wood Cooking Kitchen Serving Turner
---
---
---
Wooden Turner Spatula Scraper Spreader Solid Wood Cooking Kitchen Serving Turner Spatula Wok Wooden Spatula Tavetha BBQ Kitchen Cooking Wooden Utensil
Available in 3 Sizes - Size: 30cm / Size: 32cm / Size: 35cm
Turn Tasty Food In Seconds – No matter if your having a barbecue outside or making tasty food inside, this wooden turning spatula is need in your kitchen utensil collection. With a tough sturdy structure you can turn food in seconds with ease. A lightweight base and handle will make it easy to pick up food and flip it. Ideal when making pancakes, omelettes, dhosa's and paratha's

Scratch Proof Finish For Ultimate Cookware Protection – Along with wooden utensils being lightweight, they are also soft. No matter how expensive or high quality cookware you have, this wooden turning spatula will not scratch, make any marks or remove any coating off them. With this wooden turner all your cookware will be safe to use and you will not have to worry about it getting ruined.

Why A Wooden Utensil? - As the most safe material to use this wooden turner is needed in your utensil collection because it does not conduct heat. No matter how long this spatula is left in a pot or pan it shall remain cool and not burn your hand unlike stainless steel turner. Along with not burning your hands, this wooden turner will also not react or filtrate any harmful chemicals in your food no matter how long it is left in a hot pan. Hence this turner provides safety for the user and is a safe utensil for making food.
Strong And Durable Wooden Turning Spatula– Solid wood is one of the best materials which is very tough and long lasting therefore, cannot be destroyed easily. Due to a strong construction this turning spatula is very durable, robust and shall last you a very long time. A lightweight design will provide easy grip, not hurt your hands and allow you stir food with ease not matter how thick it is.

Storage Saver – Kitchen drawers can get full of different utensils. However, kitchen utensils that provide hassle-free storage are needed in your kitchen. This wooden turning spatula has that perfect space saving structure where it consists of a hanging loop. This quality will ensure that your kitchen drawers don't get clogged up and you can easily store this turner by hanging it up so it is close to hand and easily available when required. Hanging it will add that cooking atmosphere in your kitchen in seconds.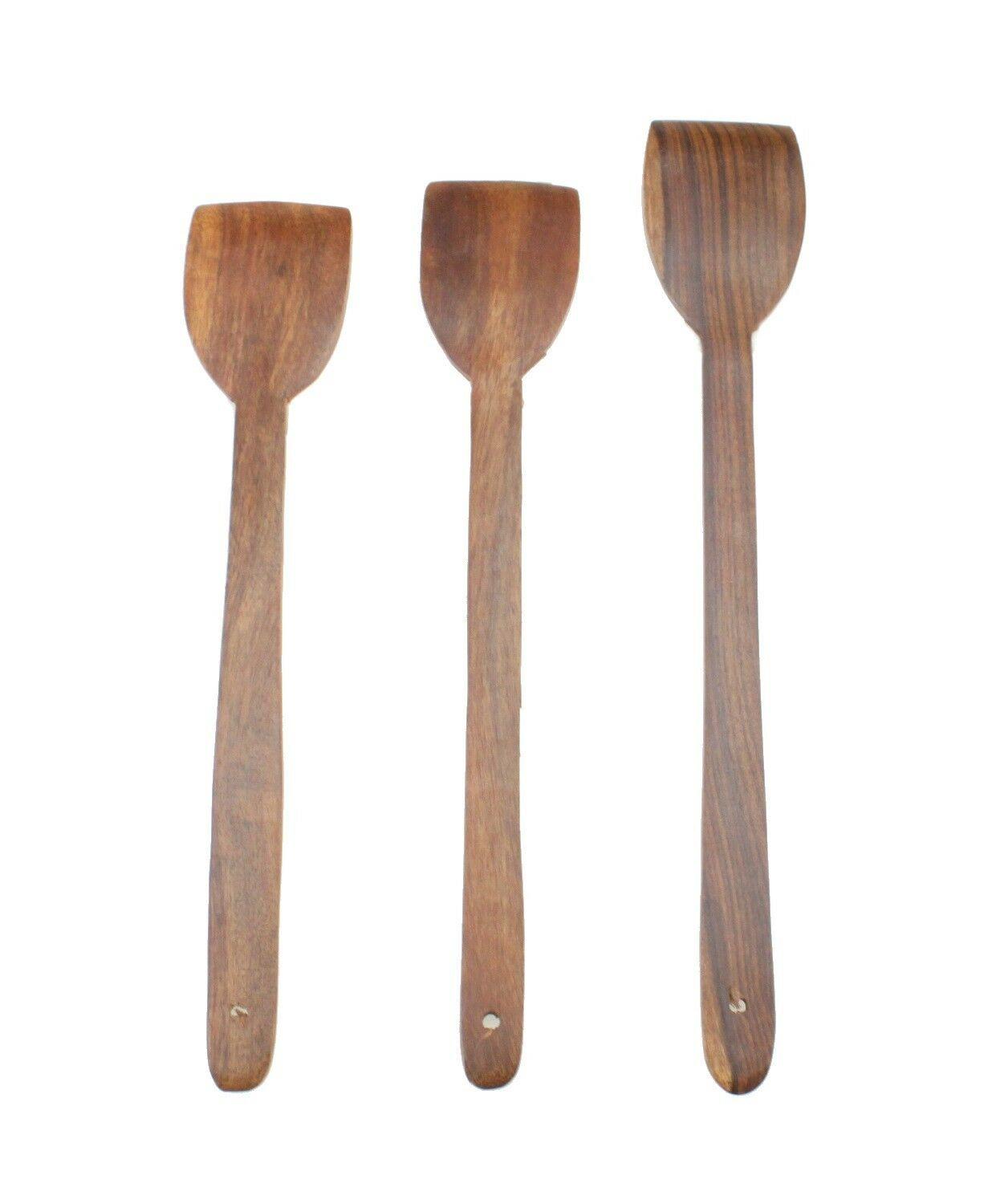 Recommend this product to a friend
Wooden Turner Spatula Scraper Spreader Solid Wood Cooking Kitchen Serving Turner