Work Top Saver Chopping Board Glass Surface Protector Bread Poppy Fruit Large
---
---
---
Work Top Saver Chopping Board Glass Surface Protector Bread Poppy Fruit Large
Creative Tops Cocktail Work Surface Protector, 40 x 30 cm (15¾" x 11¾")
Keep yourself schooled on your 'cocktail cool' with this glass worktop protector. The sleek design features 6 classic recipes

Ideal for a kitchen or home bar, the 40 x 30 cm (15¾ x 11¾) black worktop saver is also decorated with images of colourful cocktails

Made of toughened glass which is heat-resistant to 150°C (300°F), it's the ultimate barrier between spills and delicate surfaces

Easily chilled down- ideal for homemade pie crusts, fresh springy dough, or simply as a place to rest wet utensils. Simply wipe clean, to use again and again

Non-slip feet, for maximum stability when in use. Pair this giftable protector with other Everyday Home products, from Creative Tops

Features classic cocktail recipes and striking serving suggestions.

Dimensions: 40x30x1.8cm.
Creative Tops Bread Recipes Worktop Saver / Bread Making Board by Creative Tops, 48 x 38 cm (19" x 15")
This multi-functional glass board will protect your surfaces while making sure you're always prepped for ideal homemade bread

Made of toughened float glass: use it to prepare ingredients, or even as a serving board

It doubles up as a bread making board, too: it's printed with bread recipes for 'white bread', 'rustic bread' and 'rye bread'

Look for teapots, mixing bowls and more from the Creative Tops collections

Features non-slip feet. Measurements: 48 x 38cm (19 Inch x 15 Inch)
Creative Tops 'Retro Spots' Glass Worktop Saver/Serving Board, 40 x 30 cm (15.5" x 12") - Cream
Revitalise your worktops with a playful touch. This 'Retro Spots' worktop saver protects and bring cheer to your kitchen surfaces

Made of toughened, heat-resistant glass: use this multi-functional board to prepare ingredients, rest spoons mid-recipe, and much more

The cream, paint-effect backdrop is decorated with colourful circles in yellow, aqua, pink and red, with wood peeking through in places

A pretty serving board, too! Delight visitors with homemade oaty biscuits, jam- filled Victoria sponges and decadent chocolate cakes

The naturally cool surface makes it ideal for working pastry. Measurements: 40 x 30 cm (15½" x 12")
Creative Tops 'Watercolour Poppy' Glass Worktop Saver/Serving Board, 40 x 30 cm (15.5" x 12") - White/Red
Brighten up your kitchen, and protect your surfaces at the same time, with this multifunctional 'Watercolour Poppy' worktop saver

Made of toughened, heat-resistant glass: use this multi-functional board to prepare ingredients, rest spoons mid-recipe, and much more

Bold red and green poppies grace this board in a quirky, painted effect, standing out against the bright white background

A pretty serving board, too! Delight visitors with chunky homemade flapjack, flavoursome fruitcakes and beautifully decorated cupcakes

The naturally cool surface makes it ideal for working pastry. Measurements: 40 x 30 cm (15½" x 12")
Creative Tops 'Wild Field Poppies' Glass Worktop Saver/Serving Board, 40 x 30 cm (15.5" x 12") - Cream/Red
Add natural beauty to your kitchen while protecting surfaces, with this elegant and multifunctional ' Wild Field Poppies' worktop saver

Made of toughened, heat-resistant glass: use this multi-functional board to prepare ingredients, rest spoons mid-recipe, and much more

Green stems, and deep red and pale white blooms dot a creamy canvas in this emotive, watercolour-style print of wild poppies in a field

A pretty serving board, too! Delight visitors with homemade gingerbread men, feather-light meringues and decadent chocolate cakes

The naturally cool surface makes it ideal for working pastry. Measurements: 40 x 30 cm (15½" x 12")
Creative Tops Premium Glass Worktop Protector / Worktop Saver with Duck Egg Floral Design, Duck Egg Blue, 40 x 30 cm
TIMELESSLY ELEGANT: bring some elegance to your kitchen and keep work surfaces protected with this 'Duck Egg Floral' worktop saver

TOUGHENED GLASS: use this glass worktop protector to prepare ingredients, rest spoons mid-recipe and much more

DUCK EGG FLORAL DESIGN: its soft blue backdrop features white flowers on a blossom tree, while a tiny bird perches on its branches

MULTI-FUNCTIONAL: delight guests with delicious sweet treats, beautifully served - this glass worktop saver makes a great serving board

NATURALLY COOL SURFACE: made of glass, this kitchen worktop protector is ideal for working pastry too. Measures 40 x 30 cm (15½" x 12")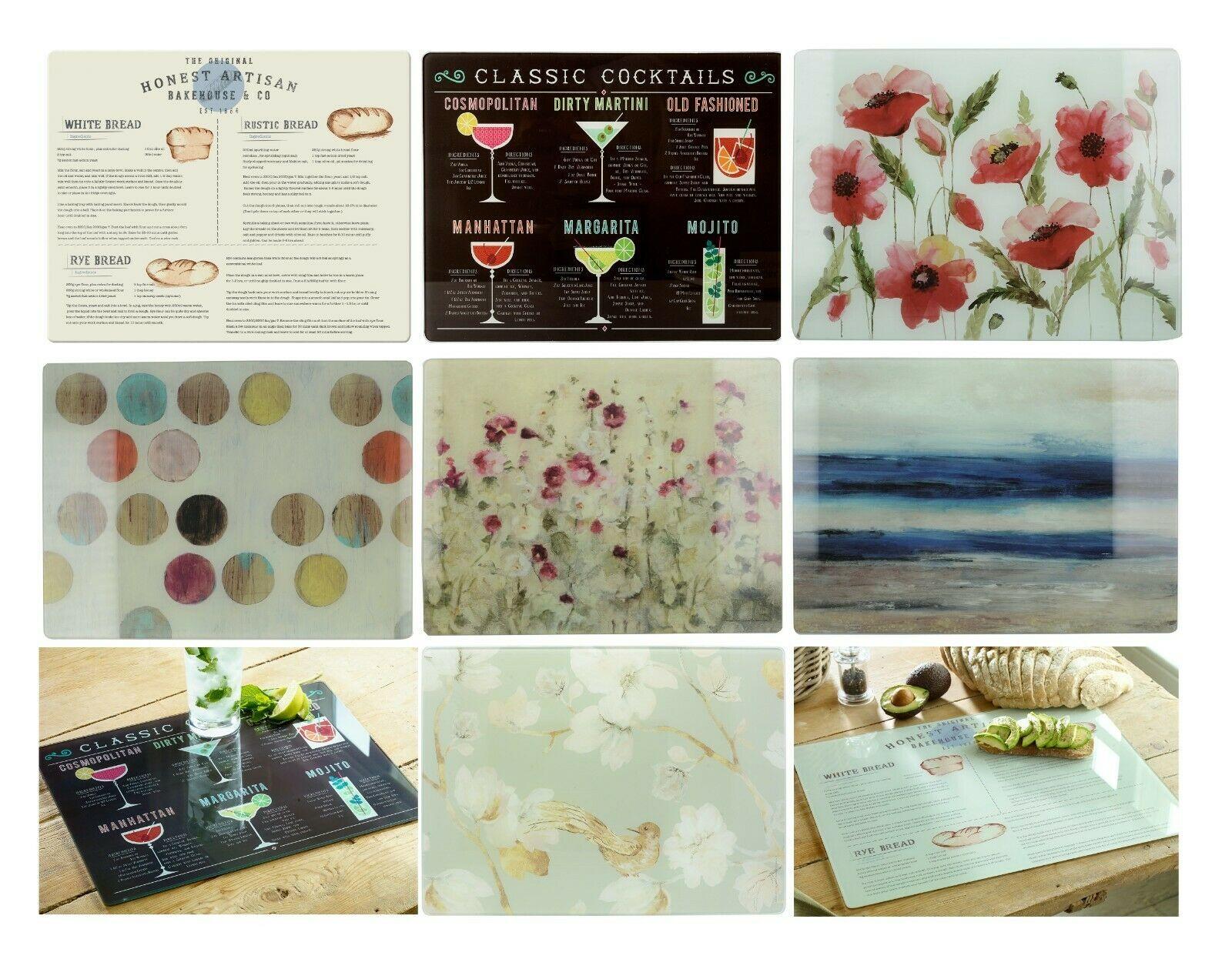 Recommend this product to a friend
Work Top Saver Chopping Board Glass Surface Protector Bread Poppy Fruit Large